Sergio Marchionne: leading change in Fiat and Chrysler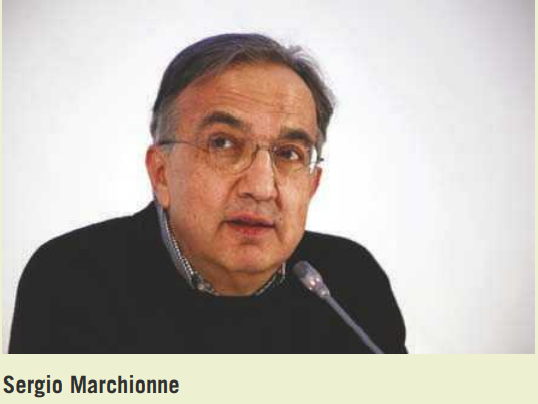 With dual Canadian and Italian citizenship, Sergio Marchionne speaks fluent English and Italian. With a first degree in philosophy, a MBA and a law degree, he first worked in accountancy, then in management positions in the printing, entertainment and chemicals industries before being elected to the board of Fiat S.p.A. in May 2003. Though he had no direct management experience in the automobile industry, he was then appointed Fiat's CEO in 2004. Since that time he has overseen turnaround programmes at Fiat, Europe's second largest car manufacturer, then Chrysler, the third largest in the USA.
Whether in his office, on a public platform or even an award ceremony, Sergio Marchionne adopts an informal relaxed image, typically in a sweater rather than the traditional managerial suit. His relaxed manner does not, however, disguise his distinct views on his role as a business leader: 'My job as CEO is not to make decisions about the business but to set stretch objectives and help our managers work out how to reach them.
In his assessment of those he selects to lead businesses he emphasises, amongst other qualities, the need for decisiveness, creativity, but also the ability to rethink assumptions and to lead change. He also believes in giving such leaders responsibility and the latitude to explore new ideas, accepting that means there will be 'hits and misses; you have to let them miss.'
Turnaround at Fiat
When he took over as CEO at Fiat in 2004 he was the fifth CEO since 2001. The company was unprofitable, the products had a reputation for poor quality, its most recent new car launch had been unsuccessful and relationships with the unions were poor. He spent his first 50 days touring the business, listening to people and analysing the situation. He found that senior executives were unused to taking responsibility for decisions; everything was referred upwards to the CEO. It was also common for executives to communicate to each other via their secretaries and spend their time firefighting or avoiding problems. The company was dominated by engineers and it was engineering that provided the traditional career progression to senior management positions. The development of new models was also in their hands; they would then pass a new car to sales and marketing, complete with sales targets and price. As well as being inefficient, not surprisingly this gave rise to tensions between departments.
Following initial measures to reduce Fiat's debt level, Marchionne turned his attention to the leadership of the business. He decided that at the most senior levels, the habit of upward referral to the CEO was so ingrained it could not be changed: so, many senior executives were 'let go'. In addition, 2000 other managers and staff were retired early. On the other hand, as he toured the company, he had identified young talented managers, often in areas such as marketing that were not the traditional routes to the top, or in geographic areas such as Latin America that were less influenced by head office and where managers tended to behave more autonomously and take personal initiative. He drew on this 'talent spotting' to make 20 leadership appointments as well as other promotions.
Marchionne prioritised taking a personal interest in high potential talent and regarded his personal engagement with them as more valuable than more formal assessment. He also believed that such personal engagement helped develop a top team with strongly held common values. His expectation of this new top cadre of leaders was that they should be given the responsibility of achieving the turnaround. He recognised that this was demanding:
'As I give people more responsibility, I also hold them more accountable. A leader who fails to meet an objective should suffer some consequences, but I don't believe that failing to meet an objective is the end of the world. . . . (but) if you want to grow leaders, you can't let explanations and excuses become a way of life. That's a characteristic of the old Fiat we've left far behind.'
Marchionne brought this team together to come up with a business plan around a stretch target, announced in July 2004, to make 2 billion euros in 2007. He recognised that this imposed target was highly ambitious – indeed some thought it unrealistic – but believed its virtue was that it forced managers to think differently and challenge old ways of doing things. To achieve greater integration and speed things up, Marchionne also took out several layers of management, eliminated a proliferation of committees and replaced them with a Group Executive Council that brought together executives from disparate operations such as tractors and trucks. To run Fiat Auto he also established a 24-person team with the aim of getting all parts of the company to talk to one another. To further encourage the sharing of ideas, he also began to move executives from one part of the business to another and required his top managers to accept multiple responsibilities for different parts of the business.
Marchionne saw one of his own major roles as the challenging of assumptions. He cites the example of questions he asked about why it took Fiat four years to develop a new model. The questions helped identify processes that could be removed which meant that the new Cinquecento was developed and launched in just 18 months in 2006. 'You start removing a few bottlenecks in this way, and pretty soon people catch on and begin ripping their own processes apart.' Such challenging of assumptions and processes was also aided by recruiting managers from outside the car industry and by benchmarking, not just against other car makers but also companies like Apple.
Not all of the moves were at top-management level. Attention was also paid to the workforce, many of whom worked in the manufacturing units that Marchionne had seen to be inefficient and dispiriting.
'The easy thing for me to do would have been to shut down two plants and start reaggregating assets elsewhere. But had I done that, we would have had a very disgruntled workforce . . . We've opened kindergartens and grocery stores next to the plant to make it easier for people to balance their work and domestic obligations. We've redecorated all the dressing rooms and bathrooms . . . We're doing it because we recognise that the commitment we make as leaders to our workforce goes beyond what's negotiated in our labour contracts.'
By 2006 Fiat was profitable.
Turnaround at Chrysler
By 2009 Chrysler was near to bankruptcy, it had no market value, investment had been slashed and potentially 300,000 jobs were on the line. With the support of the US and Canadian governments and trade unions, the Fiat Group formed a strategic alliance with Chrysler with a 20 per cent stake. Marchionne was appointed CEO. His vision was that Fiat and Chrysler together could create a leading global player in the automobile sector, given potential synergies in terms of purchasing power, distribution capabilities and product portfolios – Chrysler's jeeps, mini vans and light trucks and Fiat's small cars and fuel efficient engines.
When Marchionne took over at Chrysler in 2009, not only did he inherit a $6 billion high interest government loan, he also found a fearful workforce and, like most of Detroit's car manufacturers, a company riddled with bureaucracy. One of his first acts was to point out in a memo to Chrysler employees, the parallels with Fiat:
'Five years ago, I stepped into a very similar situation at Fiat. It was perceived by many as a failing, lethargic automaker that produced low-quality cars and was stymied by endless bureaucracies.'
Like Fiat, Chrysler was highly hierarchical with managers reluctant to take decisions:
'This place was run by a chairman's office . . . on the top floor (known as the Tower). It's empty now. . . . Nothing happens there. I'm on the floor here with all the engineers.'
Again Marchionne changed the management. He identified 26 young leaders from two or three levels below top management who had hitherto been stifled by the hierarchy. These reported directly to him in a flattened out organisation. The re-organisation also involved managers leaving who failed to match up to Marchionne's expectations. Again Marchionne emphasised cost-control; for example the 2009 plan identified savings of $2.9 billion by 2014 by sharing parts and engines with Fiat. But there was also an emphasis on product development. Here he drew on the experience of his new executive team to focus on improvements to the product range: Ralph Gilles, in charge of product design:
'Everyone knew what was wrong with the cars. You ask any employee in the company, they could list ten things that they would do better. And when you're given the chance to do those ten things better, you end up with a product that exceeds the sum of its parts.'
Another key component of the recovery was to deal with the product quality problem. Chrysler had been organised such that each brand had its own quality department. These separate departments were merged and new ways to measure quality introduced to provide greater oversight over all the brands. This attention to product and quality improvement went hand in hand with plant modernisation. The result was an upgrading of 16 models in 18 months. When the Jefferson North assembly plant in Detroit was revamped the workforce was kept occupied with its most thorough cleaning since it opened in 1991. They welcomed Marchionne when he visited to review progress, but were even more delighted when President Obama later toured the plant and called it 'this magnificent factory'. Industrial relations were not, however, always so positive. The efforts to reduce costs meant cutting jobs, closing plants, holding down wages and terminating established union agreements. Union activists staged protests at presentations made by Marchionne.
By 2011 Chrysler announced an operating profit of $2 billion (compared with a net loss of $652 million in 2010) and repaid all government loans.
New challenges
In July 2011, Fiat's stake in Chrysler was increased to 53.5 per cent and in September 2011, Marchionne became Chairman of Chrysler. However, he faced new challenges. By 2012 Chrysler was prospering. Capital spending was planned to rise to $4 billion from $3.1 billion in 2011 and profits were holding up. Fiat, however, was struggling to cope with five years of industry-wide decline in recessionary Europe, with Italy performing particularly badly. Fiat's cars were still ranked second-worst in terms of product quality in the US, it was making losses, sales forecasts and investment in Europe were being reduced and Italian plants were operating at 50 per cent capacity. Marchionne was trying to promote European industrywide efforts to cut production capacity and, after one closure in 2011, was threatening to close a second Italian factory. He was also calling for government intervention to make it easier to close unprofitable factories and lay off workers. There seemed little support for industry-wide rationalisation from Volkswagen, BMW and Daimler whose profits, whilst also suffering, did not have Fiat's level of excess factory capacity in Europe. One industry observer suggested that, under Sergio Marchionne, the next few years at Fiat and Chrysler would be a 'white knuckle ride'.
Questions
1 In relation to section 10.5 , what was the type of change pursued at Fiat and Chrysler? Was this appropriate to the change context?
2 How would you describe the change style of Sergio Marchionne? Was this appropriate to the change context?
3 What levers for change were employed by Sergio Marchionne? What others might have been used and why?
4 Assess the effectiveness of the change programmes.
10.5 LEADING STRATEGIC CHANGE
Turning an intended strategy into strategy in action invariably involves change. As Harvard's John Kotter points out, 'coping with change' 8 is what distinguishes leadership from the bringing of order and consistency to operational aspects of organisations that characterises 'good management.' Th is section of the chapter therefore begins by considering strategic leadership roles and styles. It then explains different types of strategic change and how leaders might identify levers for change they might employ using forcefield analysis.