Hunter and Lamboy (Technometrics, 1981, Vol. 23, pp. 323–328; discussion: pp. 329–350) presented the following calibration data that were originally provided by G. E. P. Box: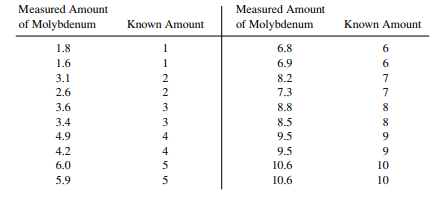 (a) Does a sufficiently strong regression relationship exist between the known and measured amounts of molybdenum for calibration to be useful? Explain.
(b) If so, construct a 95% calibration confidence interval for the known amount when the measured amount is 5.8, using Expression (8.18).
(c) Regarding Expression (8.18), what would the width of the interval approach if σ2 were virtually zero? Does the limit seem reasonable?
 (d) Assume that two analysts work with this set of data. If the second analyst decides to use inverse regression instead of the classical theory of calibration, will the equation for X∗ (i.e., using inverse regression) be expected to differ very much from the expression for X (classical theory of calibration)? Explain.