Given below is part of a dataset (all of the predictor variables but only one of the response variables) originally given by Czitrom, Sniegowski, and Haugh (in Statistical Case Studies: A Collaboration Between Academe and Industry, 1998).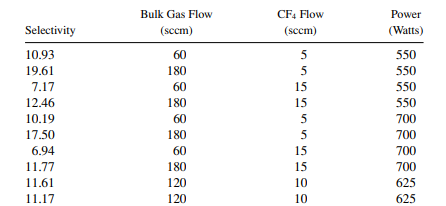 The objective of the experiment was to maximize selectivity by using appropriate settings of the three factors that are given above.
(a) How would you describe the design that was used?
 (b) Would you expect the experiment to be run using the sequence of treatment combinations as given in the table? Why or why not?
(c) Determine which effects, if any, are significant.
 (d) Can we determine the treatment combinations to use to maximize selectivity just from inspection of the table?