Consider the following salary survey data as compiled by Human Resources Program Development and Improvement (HRPDI), which was current as of October 1, 2002.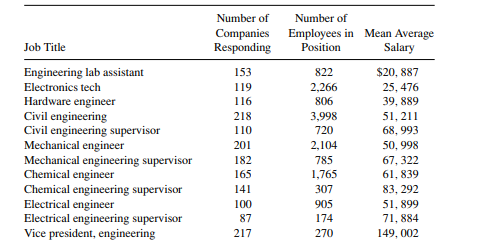 (a) What type of graph would you use to display job title and mean average salary? Be specific.
 (b) Note that the average of the average salaries was given: that is, the average salary was determined for each company and then averaged over the companies. Assume that you were asked to estimate the total payroll for a company that employs 8 civil engineers. What would your estimate be if you were not told how many civil engineers work for a particular company? Would it be practical to provide such an estimate?